Elizabeth A. Hope, Esq.
Attorney At Law
Ms. Hope joined Berkey Law Firm in October 2015 as a new attorney. She has since gained experience working with various civil litigation and transactional matters, and her specialty is in research and writing. Ms. Hope has written countless client letters in addition to court documents, including briefs. She moved to Steamboat Springs in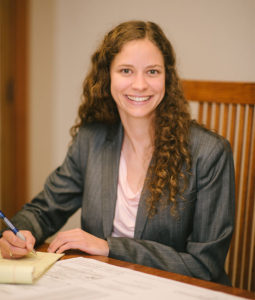 2014 to clerk for Judge O'Hara, focusing on water law. During law school, she worked as a legal research and writing tutor as well as an executive editor for the Journal of Environmental Law and Litigation, and she even had an article published in the journal. Ms. Hope is committed to solving client's problems without litigation wherever possible. She is admitted to practice law in the state of Colorado.
Education
Juris Doctor (JD), University of Oregon School of Law (2014)
Bachelor of Arts (BA)- Political Science and Communication Studies, Furman University, cum laude (2010)
Personal
Ms. Hope grew up and lived in South Carolina until she moved west for law school in 2011. She feels at home in the mountains, skiing during the winter and running the rest of the year. She also enjoys reading, hiking, and practicing yoga.
Publication
A Lack of International Agreement over the Protection of Forests: How Nations Have Risen to the Challenge of Forest Management, Journal of Environmental Law and Litigation, Issue 29(1) (2014)